In this section we've linked to the web sites of several W2P members, currently active plus some graduates.
Recently we've added several Smashwords pages, with stories and essays to download.
(When appropriate, people are listed by their pen name.)
---
---
Here are some blogs maintained by our members.

Adam

David

Frank

Dion

Becki

Carol

Micki

Paul

(Many of us are on Facebook, Author's Den, Premier Writers, and other forums as well.)


---
During the 2002 holiday season, all of our established members offered comments and compliments about the others. The collected results are posted here.

We don't just meet on line. Here are some photos taken during several W2P get-togethers.
---
This is an excellent (and commercially successful) children's anthology, and seven of our W2P members contributed six of its fifteen stories. (Several years later, we're still getting royality checks.)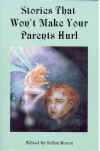 © 2013 by Writing to Publish, worldwide rights reserved. All information contained herein is the property of the attributed author or Writing to Publish and may not be copied, excerpted, or reposted on any medium including the Internet except by permission. Contact ewriters /at/ aol \dot\ com for details concerning the publication of any material contained in this site.