---
San Leandro

Unreasonable new restrictions.
Every city needs money. That's expected, and what is their chosen source?
San Leandro has long been trucker-friendly, until new policies and route enforcement began in 2013.

In particular, one popular frontage road has just been sign-restricted, and $100 off-route tickets issued, with no possible traffic-related reason.


Lewelling at Embers, next to 880.
(A common yet costly little sign.)

Along Embers Way, southbound.
(Truck checkpoint area, just a few feet from passing out of the city limit.)

Of course, residents don't like trucks rumbling past their house. As you can see, there are no houses along Embers Way, just one business at the north end, zero cross-traffic, with very few pedestrians, and no unusual problems.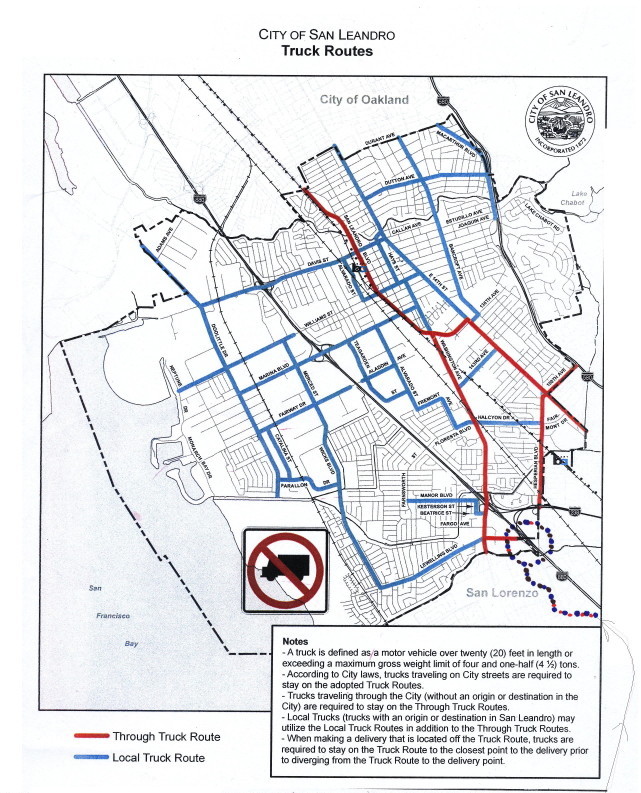 Embers Ways is a busy route from the Lewelling/San Lorenzo exit from 880 southbound, straight across Lewelling Blvd. toward Hesperian Blvd., in order to access San Lorenzo and western Hayward. It's the most direct access for truck deliveries.
But now, big-rigs are expected to skip that short frontage road, and take a dog-leg route, under the freeway and back again. With a tight turn and a lot of four-wheeler traffic.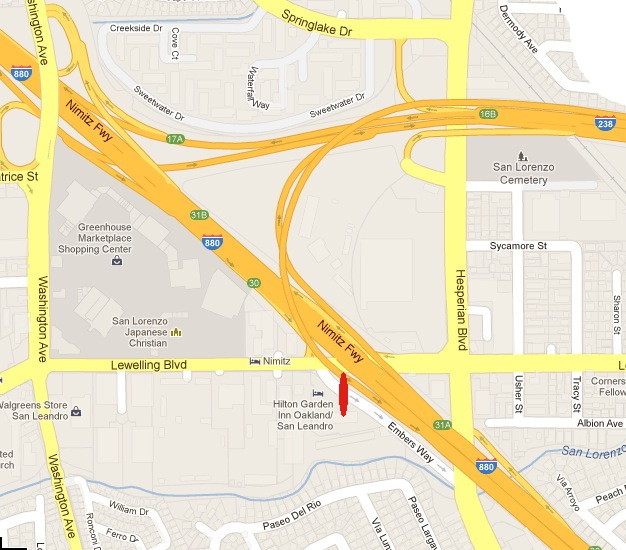 ---


How seriously are truckers expected to take these new No Truck signs?
(As usual, the reality is complicated and the actual enforcement uncertain.)

Here's an improvement, thank you San Leandro!
Bigge Street, south of 98th, at the Oakland city line.
(This replacement sign, along the main access road into a 100% industrial area, specifies it's about 'through trucks' instead of claiming to bar all trucks.)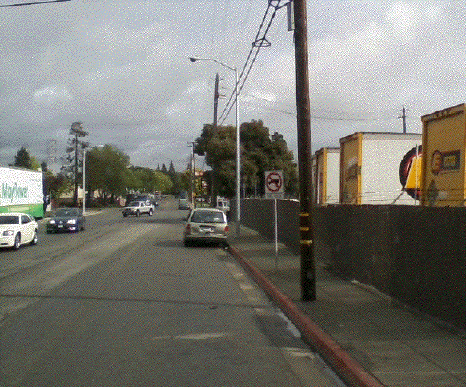 Adams at Doolittle.
(The only other access -- to an area which hosts several large truck fleets.)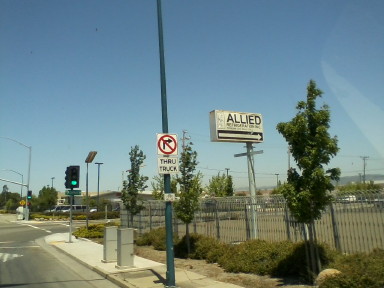 Let's be fair: San Leandro has also posted many clear and specific signs for the sake of truckers.


| | |
| --- | --- |
| Williams street, eastbound near 880. | Farallon Drive, westbound onto Doolittle. |