---
Pleasanton

Overhyped restrictions.

The Bay Area has many towns and areas 'blocked off' by strict No Truck signs. And yet, to serve those areas, truckers such as myself must violate those signs every day.

The area of western Pleasanton, with Stoneridge Mall, a Kaiser clinic, and many businesses and office parks, is one example.




| | |
| --- | --- |
| Foothill exit from 580 east. | Stoneridge exit from 680 south. |



These twin signs 'forbid' the only two freeway access routes into the mall.
(There are other Pleasanton signs that say 'No Thru Trucks' instead, but not in this area.)


---

There are signs that contradict each other!

The area of southwestern Pleasanton, with its warehouses along Sunol Blvd., has both old and new signs, which are confusing at best.


| | |
| --- | --- |
| Bernal Road exit from 680 north. | Eastbound on Bernal. |


If you obey the 'through trucks okay' sign at the 680 Bernal exit, you rapidly encounter, and must violate, two strict Weight Limit signs. (Similar white signs at both adjoining freeway exits lack the 'Thru' part.)

Here's a map that indicated the location of all four photos. (Truckers are not lawyers or city planners, and still must attempt to figure things out in a hurry.)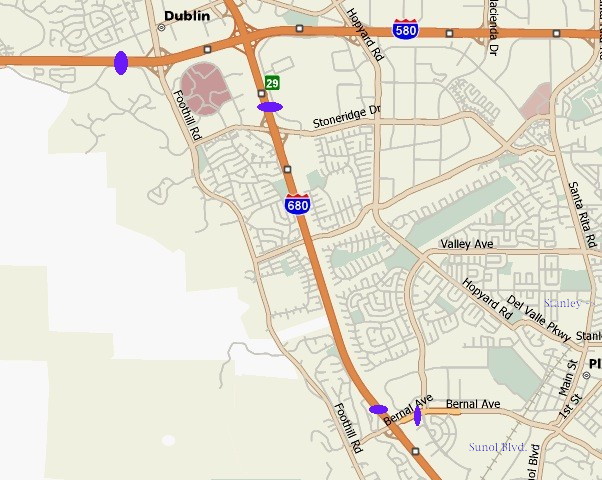 In 2010 the city added a sign, near the gravel pits along Stanley Blvd, directing westbound trucks to follow State Route 84 across town. This is a fairly clear route, from Stanley Blvd. onto First Street onto Sunol Blvd. (That sign is 'off to the right' from the map above.)
There doesn't seem to be a corresponding eastbound sign.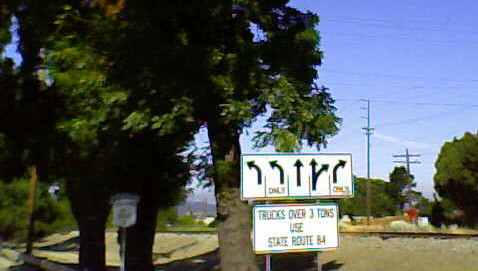 In any case, the Pleasanton police are not known to strongly enforce these signs. (Luckily for the mall shops and local warehouses.)
I assume the idea is to keep messy gravel trucks off their local streets. So if that's what you are driving, better follow your standard route!